Night Sing - PLAZA - Full Version - PC Game - Free Download
Title: Night Sing
Genre: Action, Adventure, Indie, RPG
Developer: VKGame
Publisher: SakuraGame
Release Date: 19 Jul, 2019
Protection: Steam
Notes: To make the game english, select the 3rd menu option and change the language.
DESCRIPTION
ABOUT THE GAME
Night Sing is a third-person-shooter game with RPG elements developed by Valkyrie Stuidio with Unity. With 3D character and animations, the game can bring you horror that's so real you can feel it in your "hearts".

-Background Story-
General Goodell in Germania allows vampires to be immortal as a deal, and to invade Romilia city during the Blood Moon, bringing about a massive zombie crisis. A group of vampires, NightSing takes Remi, the lord of William Family in order to get rid of the vampire hunters to revive William the Conqueror who used to be the King of Vampire Empire. Leading roles such as Lin Xueying and Asami began their adventures to save their childhood sweetheart Remi.

-Cast List-
Lin Xueying
Height:160cm
Date of Birth:August, 5
Cv:江时暖
Constellation:Leo
She's an energetic and active young girl, skilled at shooting. As Remi's childhood sweetheart, she loves bossing Remi around. She's into Remi even though she pretends not to care about him at all. With a ponytail, she's the leading role and the main character that the player controls of this game.

Yuki Asami
Height:162cm
Date of Birth:June, 2
Cv:TK-kun
Constellation:Cancer
She's an unknown angel and the librarian of the school, but not smart enough without parents at an early age. Now she lives alone, tough and strong. She has a crush on Remi, but never has the guts to express herself. She has a warm heart, offering people the warmth of a mother's love and she's good at cooking and first aid.

Syuko Tsuruta
Height:160cm
Date of Birth:July, 18
Cv:叶知秋
Constellation:Cancer
She's the daughter of the President of Saint Romilia Middle School. She's a quick learner, gentle and mature, believing in science. Her father is a descendant of knight in the east of Dya Imperial . He was transferred to Ministry of Education in Romilia District later. And then Syuko also came here with her father.

William-Remi
Height:165cm
Date of Birth:Sept. 5
Cv:kinsen
Constellation:Virgo
He's a timid boy who looks cute. He and Lin were childhood sweethearts,and always follows the latter's lead. Remi seems friendly by being humble and polite, Remi is a human in the vampire royal blood line, but he has no idea of it.

Hitomi
Height:165cm
Date of Birth:?
Constellation:?
Cv:楚衔
She's the leader of a group of vampires, NightSing. Wearing the same school uniform, but she doesn't seem to be a student here. She's so enigmatic that nobody knows who she really is, but Hitomi seems to have a strong interest in Remi.

Heclery
Height:175cm
Date of Birth:?
Constellation:?
Cv:She slows down the pace
Hitomi's servant,a pure vampire fighter with powerful combat power. Different from other vampires that are formed by nurture,Heclery has the special ability which only belongs to the true vampires. As dumb as an oyster, she's rather loyal to Hitomi, and a yes man to Hitomi.
SCREENSHOTS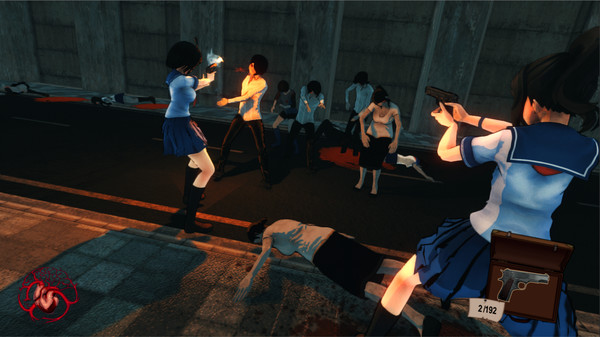 SYSTEM REQUIREMENTS
Minimum:
Memory: 2 GB RAM
DirectX: Version 9.0c
Storage: 10 GB available space
NFO
PLAZA
-P-R-E-S-E-N-T-S-
Night Sing (c) SakuraGame

Release Date :  07/2019                     Protection : Steam
Discs        :  1                           Genre      : Action

Night  Sing  is  a  third-person-shooter  game  with   RPG  elements
developed by Valkyrie  Stuidio with  Unity. With  3D  character  and
animations, the game can bring you horror  that's so  real  you  can
feel it in your "hearts".
For more info go to : http://store.steampowered.com/app/1097310/

1. Extract release
2. Mount ISO
3. Install the game
4. Copy crack from the PLAZA folder
5. Play!
NOTES: To make the game english, select the 3rd menu option and
change the language.

General Notes:
- Block the game's exe in your firewall to prevent the game from
trying to go online ..
- If you install games to your systemdrive, it may be necessary
to run this game with admin privileges instead

CODEX - STEAMPUNKS - CPY - SiMPLEX - ACTiVATED

Coming soon...
Download Link
Size: 4.51 GB
Night.Sing-PLAZA.Torrent
Please be aware that you will need uTorrent to download the games you find here.
If you like our site please don't forget to bookmark and share with your friends also if you really like the games you downloaded here then please support the developer by buying the games you like.